Fifth level created by Unaniem. What else is there to say for an introduction?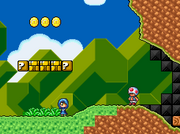 Download
EDIT: 15-12-15: Finalized version: Download
Notes
Decided to create a somewhat less ambitious level than the other four I've crafted. I think the results were decent in the end, although perhaps a tad generic, but I'll let the players decide on that.
We all still love our simple cave levels, don't we?
What the title acronym stands for should become apparent as the level is played.
Important Notes
The level features
one exit
, in the format of a
SMW Goal post
.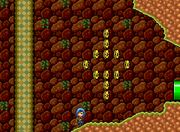 The level starts out in basic grasslands, near the entrance of a tunnel and ends in the very same grasslands, only instead at the opposite end of the tunnel.
Reviews
I get the feeling that this wasn't designed with Sheath in Mind; a few jumps and whatnot felt a tad too hard.
Could've used an indication of the vertical warp, and an indication that you went left the second time you were in the White Zone. Also need to fix your music (No MP3s, must have Metadata). Approved, but you need to fix those ASAP. -SAJewers | 21:17 ADT, December 16, 2015
This level was hilarious, creative, inventive, fun, and all-around GREAT. Don't really have much else to say about it, other than the fact that I love the subtle blue glow effect on the lava replacement and the acid trip vibe you gave off! Approval from me! Duvi | 8:10 PM, 12/17/15
Approved - FrozenQuills (And yeah what SAJewers said)
Community content is available under
CC-BY-SA
unless otherwise noted.